Jellies, Jams & More
Bigg Riggs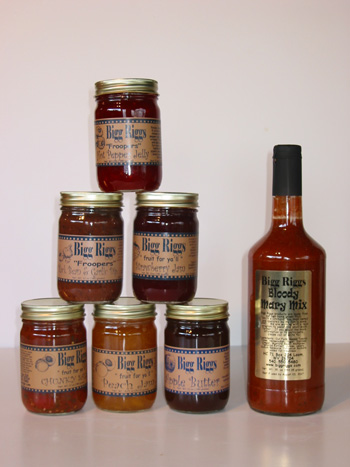 I met forth generation orchard grower Calvin Riggleman at the South Riding Farmer's Market a couple of summers ago. He is a very energetic young man with a passion for farming and turning his produce into jams, jellies, and spreads. This holiday season we are proud to offer:
Apple Butter
Sugar-Free Apple Butter
Hot Pepper Jelly
Black Bean Garlic Dip
Sweet Fire Hot Sauce
$6.00 each
He has also produced a popular Bloody Mary Mix that is to die for. $8.00 each.
Paula's Pepper Jelly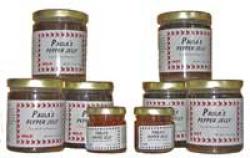 **Winner of the 2004 Fiery Food Challenge!***
The Fiery Food Challenge is the most recognized, most prestigious competition of zesty products in the industry. This Hot Pepper jelly has a medium heat that gives your taste buds that perfect zing. Excellent for cooking and BBQing or mix with cream cheese and spread on crackers.
Paula's Mild Pepper Jelly
This is a fabulous mild pepper jelly! It can't get any milder than this folks!
Both 100% Natural Pepper Jellies are available in a 7.5 oz jar for $5.99 each
Goodies from Lollipop Tree®
All Lollipop Tree® products are packaged by hand in their, family-owned, Portsmouth, New Hampshire factory kitchen. For over 25 years they have used only the finest, most flavorful ingredients. ALL NATURAL, TRANS FAT FREE AND NO PRESERVATIVES.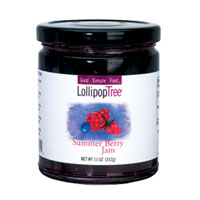 Summer Berry Jam
A medley of blueberries, raspberries and strawberries harmonize this summertime treat to make your toast sing!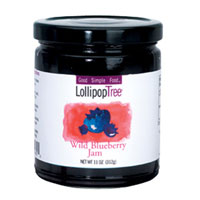 Wild Blueberry Jam
Maine's natural, wild blueberries make this jam reminiscent of a crisp country morning.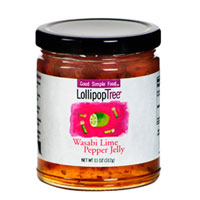 Wasabi Lime Pepper Jelly
You won't be able to resist this combination of refreshing limes and the fiery surprise of wasabi. Delicious swirled into mascarpone cheese or as a dipping sauce for spring rolls and crispy chicken wings.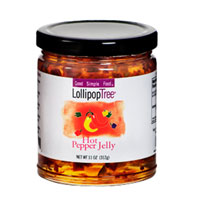 Hot Pepper Jelly
A mélange of fiery peppers, this Hot Pepper Jelly is ideal served as a glaze for grilled salmon and fresh vegetables or as a spread for deli sandwich wraps.
Lollipop Tree jellies and jams-5.5 oz $4.50 each